Camping near Futuroscope
The Futuroscope park is located at 1h20 by car from the campsite La Rochelle. From La Rochelle, take the national roads 11 and 248 in the direction of Niort, then turn off to join the A10 in the direction of Poitiers. Finally, take exit 28 to Jaunay-Clan/Futuroscope.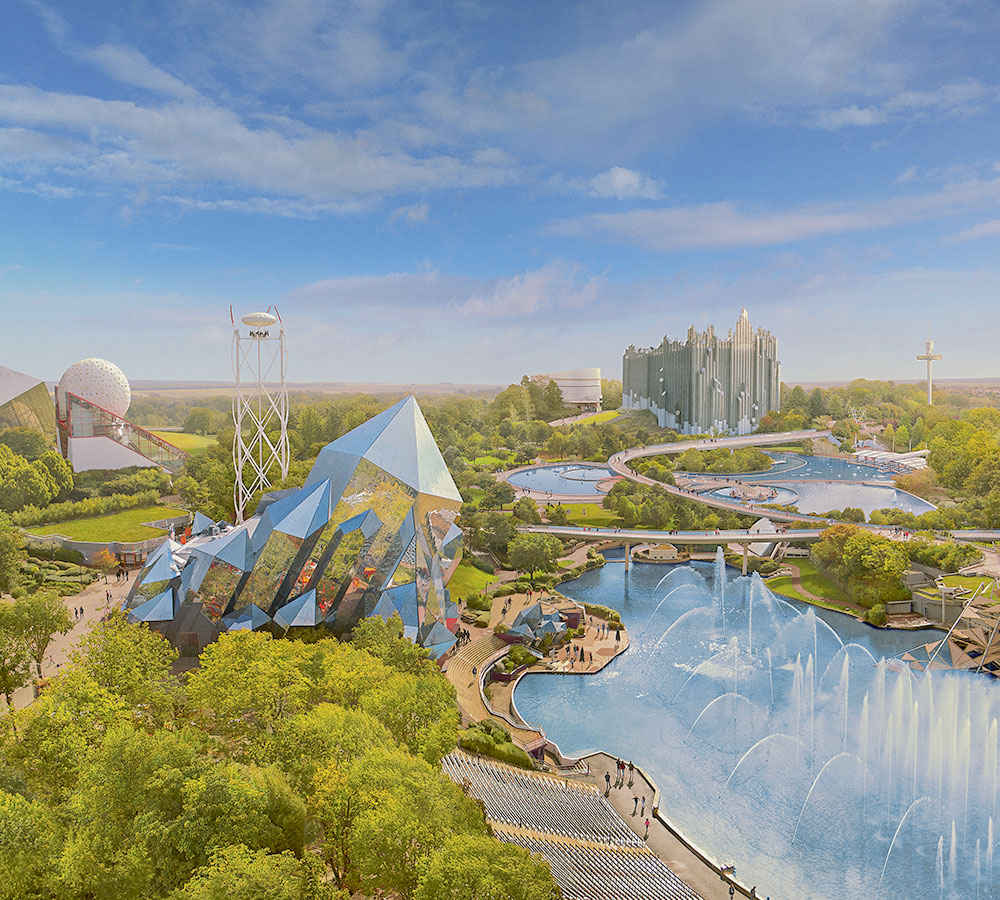 The Futuroscope park
The Futuroscope park offers new experiences around cinema and new technologies. Each building is dedicated to a universe or technology that allows you to see films on hemispheric screens, 3D projections, dynamic films, and amazing 4D effects.
The site includes a wide range of outdoor and indoor attractions: scenic trails, live performances, interactive exhibits and playgrounds.
The experiences offered by the Futuroscope are closely linked to fashion and current events.
Camping near Futuroscope
Are you looking for a campsite near the Futuroscope? Welcome to the 4 star camping Le Beaulieu in La Rochelle ! Our upscale open-air hotel is the ideal accommodation solution for a seaside stay near one of France's most prestigious theme parks. The establishment is located approximately 140 km from the Futuroscope. You can get there in less than an hour and a half by car or motor home via the N11 and the A10 freeway in the direction of Poitiers and take advantage of the covered and heated swimming pool.
You will spend an unforgettable day as a couple, with your children or with friends in this fabulous theme park which has welcomed more than 50 million visitors since its inauguration in 1987.
By booking a spacious pitch or a fully equipped mobile home rental in a campsite near Futuroscope, you can enjoy both the facilities of a premium establishment as well as a family camping vacation and visit a unique leisure park that combines science, new technologies and entertainment.

You can go into space with Thomas Pesquet in the planetarium, immerse yourself in a racetrack with Sébastien Loeb, travel through time with the Rabbids, or take part in a robot party to the rhythm of Martin Solveig's music.
Camping Futuroscope cheap
Finding an economical campsite near Futuroscope that offers cheap and comfortable luxury accommodation can be a difficult task for some holidaymakers. The cheap campsite in La Rochelle has selected for its demanding guests who are looking for the luxury of a vacation home and the warm atmosphere of an open air hotel at the best price fully equipped mobile homes for 2 to 6 people. The rental park of our Futuroscope campsite consists of nearly 100 modernly finished cottages of various sizes and ranges and numerous camping pitches to meet the needs of all our guests.
Romantic getaway for two, weekend with friends, week with family: enjoy the luxury of a mobile home with fully equipped kitchen and private covered or semi-covered terrace at low cost in our cheap Futuroscope campsite. Our luxury accommodations are distinguished by their large, bright living room with sitting area and kitchenette, their separate bedrooms (1 to 3 bedrooms depending on the model, including a master suite with double bed), their modern equipment and their good value for money.
From the small standard mobile home of 16 m2 to the premium family cottage of 36 m2, select among our rentals the one that will guarantee you a comfortable stay at a low price near the Futuroscope.
You prefer the adventure and originality of an unusual accommodation? Book the coco sweet, a canvas bungalow with an atypical design for 4 people in your Futuroscope campsite. Want to save more money? Check out our special offers and opportunities such as monthly rentals. If you have the ACSI card, you can benefit from exclusive rates in low season.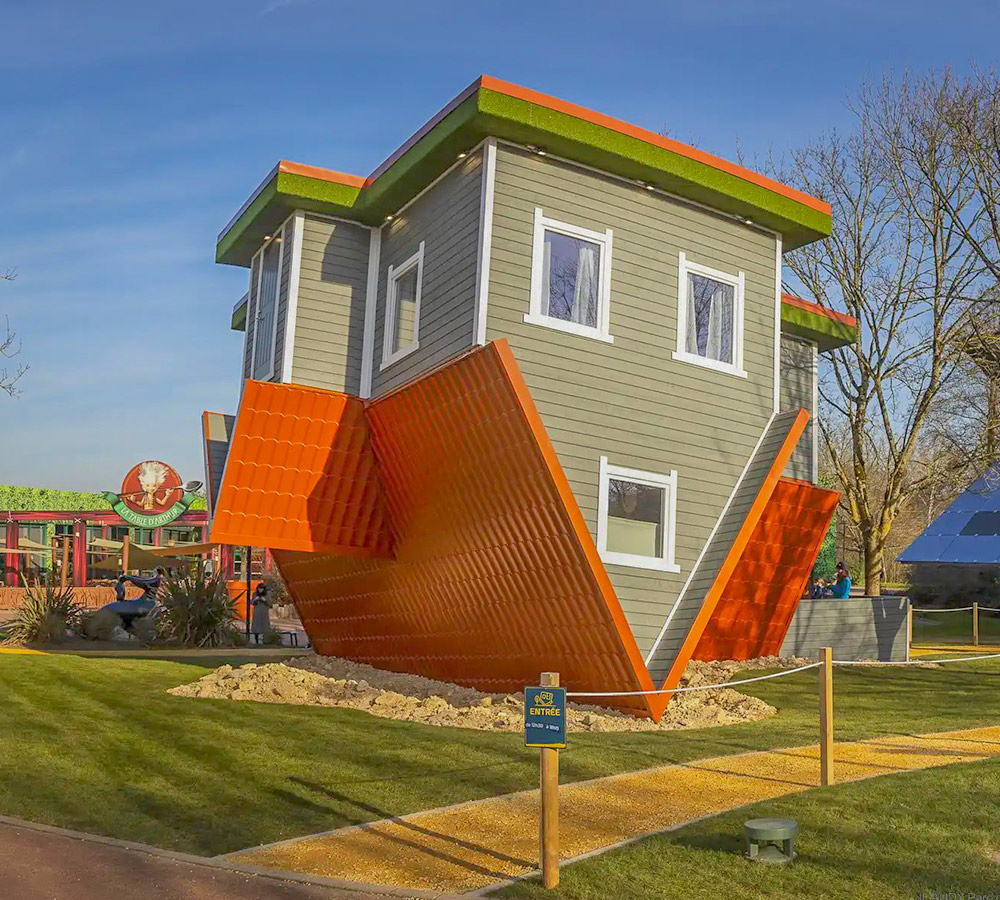 The attractions of the Futuroscope
You have just put your bags in your mobile home in our Futuroscope campsite? Let's discover the park and its main attractions. Enter the dynamic cinemas (Vienne Dynamique, Dynamic!), immerse yourself in 3D in the Time Machine, prove your driving skills on the Sébastien Loeb Racing Xperience circuit, dance with the robots in the Robots Pavilion, watch a 4D movie in the Imagination Pavilion and attend the Cirque du Soleil night show.
Your children will not want to leave Futuropolis, a 3 hectare area with about twenty attractions and games for children such as floating bikes, junior roller coasters, rope games, a plant maze and boats on wheels, enough to find happiness among the Futuroscope attractions.
Top 5 things to see/know about the Futuroscope
Imagined and designed by architect Denis Laming, the park's unusual and neo-futuristic buildings are made of aluminum, reflective glass, metal and architectural concrete .
The Futuroscope pavilion, with its spherical shape, is the first building of the complex. It has naturally become emblematic of the park.
Tips for an enjoyable experience: to avoid lines, book online, pay for parking upon arrival, and start with the attractions at the back of the park.
A kingdom of high-tech and futuristic attractions, the park is nonetheless full of relaxing outdoor spaces where you can picnic with your family and even take a nap!
Outdoor play area for children, Futuropolis extends over 3 hectares of the park and includes more than 20 attractions, some of which are aquatic, ideal for family vacations.
Other activities around
of La Rochelle