Rent a weekend
in La Rochelle
Spend a weekend in Charente-Maritime with a vacation feeling? It can be done! The camping Le Beaulieu offers you rentals for a weekend in La Rochelle. You will feel at home and enjoy your weekend. More intimacy than in an apartment, spending the weekend in a mobile home is the right plan to discover the city center of La Rochelle and its old port, just a step away from the minimes, during your stay.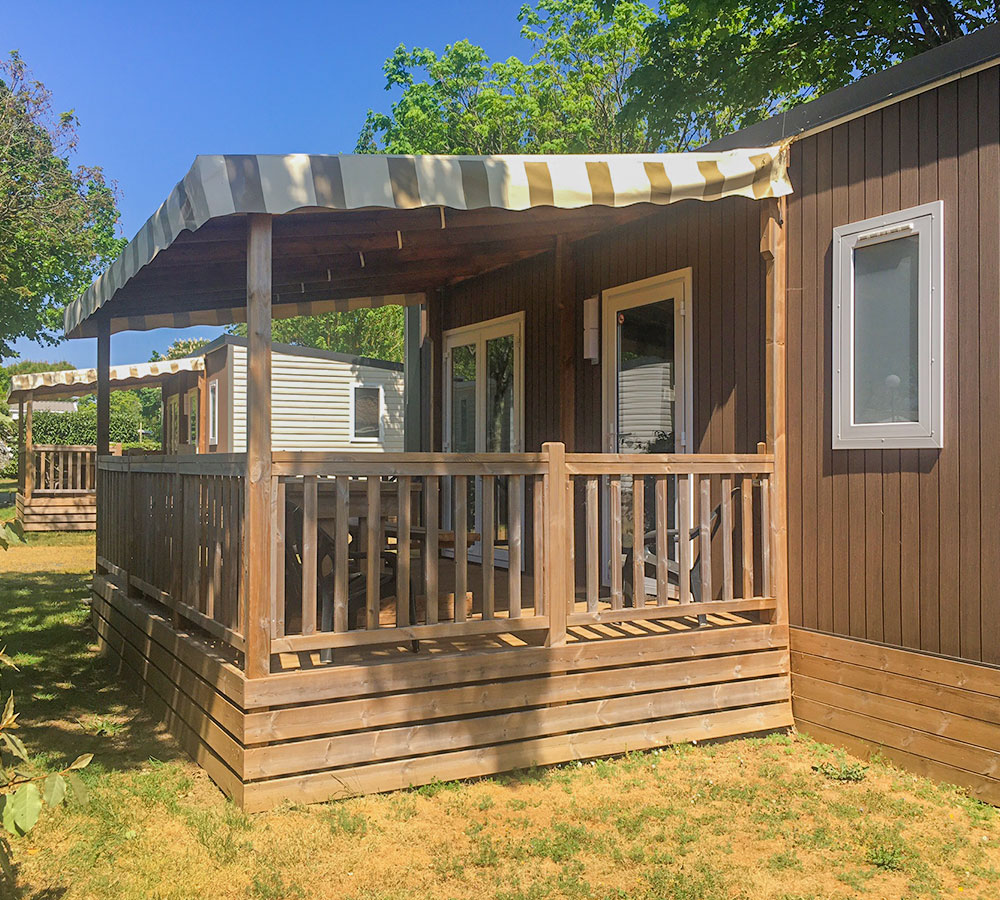 Find your accommodation
for the weekend
To be sure to provide you with the best weekend rental in La Rochelle, the Beaulieu campsite is equipped with a wide range of rentals. All our mobile homes are equipped with one or more bedrooms.
We therefore make it a point of honor to provide you with optimal comfort for your stay. A large living room and a bathroom are essential for a weekend rental in La Rochelle. In addition to the different rooms of your accommodation, you can enjoy the evenings of your weekend on the terrace of the latter. You will also have a small garden for a pleasant stay, as well as a parking space, which is not always the case when you rent a cottage from a private individual.
Our wide range of rentals means that whatever your situation, you will find the right accommodation in La Rochelle. For a romantic weekend, you will find a mobile home, one bedroom, fully equipped, with its terrace and bathroom.

For a family weekend rental in La Rochelle, you will have the possibility to rent a mobile home with up to 3 bedrooms in which you will spend beautiful nights. Whatever your reason for coming for the weekend, simply choose your rental based on the number of rooms you are looking for and the number of people in your group.
Enjoy the benefits of camping during a weekend in La Rochelle
But, how to choose the best weekend rental in La Rochelle? Renting a one-room apartment? Opting for a multi-room apartment? Or go through a private individual to find a house or a gîte?
According to our customers, the best rental for a weekend in La Rochelle is a mobile home in our campsite! Indeed, unlike other types of accommodation, Beaulieu campsite offers you access to its services, everything is included in the price! Swimming pool, wellness area, restaurant, wifi. Some services might seem like details, but will make your vacation in your weekend rental in La Rochelle unforgettable.
The must-sees during a weekend in La Rochelle
When you rent a weekend in La Rochelle, there are some places not to be missed. Especially the old port of the city. The view it offers at night is just great and its proximity to downtown is a real plus. !
In our opinion, it is one of the most beautiful ports in France. If you are early in the morning, you can stroll through a market in La Rochelle. From your weekend rental La Rochelle, you will also be ideally placed to visit the Aquarium of the city. Just a few minutes drive from your rental, you will find a beach to relax to the sound of the waves.
Discover our
accommodation